ASIP ENGINEERING (JB)
04-31, Skudai Parade
Shopping Complex,
Batu 10, Jalan Skudai,
81300 Skudai, Johor,
Malaysia.
ASIP ENGINEERING (KL)
Lot 3, Block B,
Subang Light Industrial Park,
Off Jalan Subang 2, USJ 1,
47610 Subang Jaya,
Selangor, Malaysia.
ASIP ENGINEERING (Perak)
14, Jalan Medan Ipoh 9,
Bandar Baru Medan,
31400 Ipoh,
Perak, Malaysia.
+6016-7333389
enquiry@asip.com.my
Ruijie RG-Rain100 V2 Cloud Classroom Device
Network/ICT System --- RUIJIE ---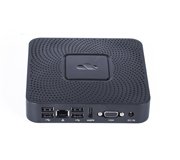 The Ruijie RG-Rain100 V2 Cloud Class Terminal is one of the core components of the RCC Cloud Class Solution. The light and compact contemporary design of the end device creates an immaculate environment for the modern classrooms, while the diverse ports support the connection to a variety of external devices.
Equipped with a powerful processor, small local flash memory and simplified operation system, the RG-Rain100 V2 is an industrial-grade end device tailor-made for the education industry. The RG-Rain100 V2 supports a processor of low power consumption but high operating performance, local flash memory for operation system storage and local system memory. The RG-Rain100 V2 with the non-removable components provides a more reliable and secure application environment than regular PCs, ensuring a lower power consumption and higher security. The system optimization of administration, maintenance, upgrade, expansion and service will significantly reduce the construction and maintenance costs of the Cloud Classdeployment. Accordingly, the system TCO will also be significantly reduced.
The RG-Rain100 V2 offers an excellent solution for the education industry. The integration of RG-Rain100 V2 with RG-RCD Cloud Server Series will achieve the best teaching performance at computer classrooms, and provide convenience to the administration of the school computer rooms. The system achieves a smooth transformation from a traditional desktop-computer-based classroom to the Cloud Class Solution. The RG-Rain100 V2 has received high recognition for its high-performing intelligence condensed within the light and compact design.
¡ñExquisite & Compact Design
¡ñPlug-and-play with Zero Maintenance
¡ñRemote Wake-up of End Devices