ASIP ENGINEERING (JB)
04-31, Skudai Parade
Shopping Complex,
Batu 10, Jalan Skudai,
81300 Skudai, Johor,
Malaysia.
ASIP ENGINEERING (KL)
Lot 3, Block B,
Subang Light Industrial Park,
Off Jalan Subang 2, USJ 1,
47610 Subang Jaya,
Selangor, Malaysia.
ASIP ENGINEERING (Perak)
14, Jalan Medan Ipoh 9,
Bandar Baru Medan,
31400 Ipoh,
Perak, Malaysia.
+6016-7333389
enquiry@asip.com.my
N5400.ENTRYPASS Active Network Control Panel
Door Access System --- ENTRYPASS ---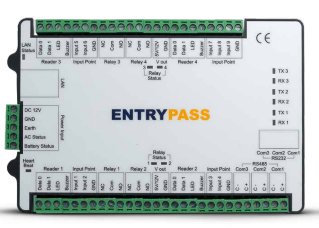 N5400 Active Network Control Panel


EntryPass Active Networks are designed to enhance highly customized and rapid 'real-time' changes to the underlying network operation. Brilliantly engineered with all the power you need to enable code-sending, minus unnecessary buffer time with its distributed architecture capable of processing access demand at the edge level without leveraging at the server end.

Features:
High Performance: Based on the latest HCB (Hybrid Compact Board), N5400 is a high reliability, high efficiency and highly integrated intelligent multi-application control panel targeted for physical access control industry. It features a 32bits Freescale ColdFire microcontroller running at 60MHz, this control panel can fulfill most demanding requirement in physical access control environment.
AES (Advance Encryption Standard): By enabling AES Encryption, the controller will only communicate with platform1 where the AES key in the P1 database is match with the controller. This can avoid hacker to tap the controller then directly communicate and control the controller, for example send a pulse door command to unlock the door.
Active Transmit: Rather than keeping the event data in the memory awaiting for host-PC to poll, controller will actively transmits the current event data to the host server as it happens, meaning events get delivered and can be act upon faster.
Built In Web Server: Built-in web server where network configuration such as IP address, subnet mask, server IP can be easily done upon login. No more factory programming needed as the firmware can be upgraded via the on-board web server.
Door Interlocking:

2 In/Out door or 4-In doors interlocking within the control panel , no external wiring is needed. Cross-board interlocking is achievable by checking the interlocking signal coming from second control panel before granting the accessibility to the local control panel.
YOU MAY ALSO LIKE
np_code{type:tag_slider,id:450252,col:6}