ASIP ENGINEERING (JB)
04-31, Skudai Parade
Shopping Complex,
Batu 10, Jalan Skudai,
81300 Skudai, Johor,
Malaysia.
ASIP ENGINEERING (KL)
Lot 3, Block B,
Subang Light Industrial Park,
Off Jalan Subang 2, USJ 1,
47610 Subang Jaya,
Selangor, Malaysia.
ASIP ENGINEERING (Perak)
14, Jalan Medan Ipoh 9,
Bandar Baru Medan,
31400 Ipoh,
Perak, Malaysia.
+6016-7333389
enquiry@asip.com.my
WS-5325U. TOA Wireless Set. #ASIP Connect
PA/Sound System --- TOA ---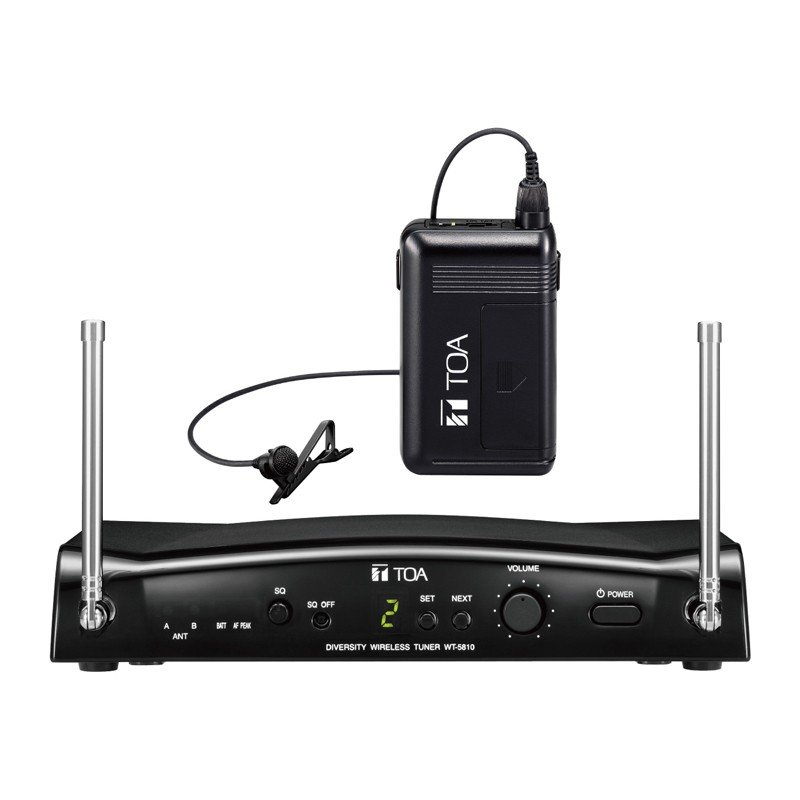 WS-5325U. TOA Wireless Set. #ASIP Connect
The WS-5325U includes a wireless transmitter WM-5325, a lavalier microphone YP-M5300, and a diversity wireless tuner WT-5810. The WM-5325 wireless transmitter has been manufactured for use with a UHF system. Thanks to the PLL-synthesizer system, 64 different operating frequencies are made available. A high output power ensures stable radio signal transmission. The YP-M5300 employs an electret condenser microphone element and has been designed for use in speech reinforcement applications. The WT-5810 is a PLL-synthesizer controlled double superhetrodyne diversity tuner designed to be used with a UHF wireless system. It employs a compander noise reduction circuit to minimize the influence of ambient RF noise.
| | |
| --- | --- |
| Product Composition | Wireless transmitter WM-5325 …1, Lavalier microphone YP-M5300 …1, Diversity wireless tuner WT-5810 …1 |
| Frequency Range | 576 - 865 MHz (*1), UHF |
| Tone Frequency | 32.768 kHz |
| Operating Temperature | -10 ¡æ to +50 ¡æ (14 ©bF to 122 ©bF) |
| Accessory | AC adapter (*2) …1, Screw driver …1, Strage case …1, Neck strap …1 |
(*3) 0 dB = 1 V
Wireless Transmitter
Modulation

Frequency modulation

Channel Selectable

64 channels (the number of channels may differ from country to country)

RF Carrier Power

Less than 50 mW (Factory preset 10 mW ERP)

Oscillator

PLL synthesized

Maximum Input Level

-14 dB to -29 dB (*3) (Audio level control: Min. to Max.)

Battery

WB-2000 (WB-2000-2 contains 2 pieces) rechargeable battery (option) or
AA alkaline dry cell battery

Battery Life

Approx. 13 h (when the WB-2000 rechargeable battery is used)
Approx. 10 h (when the alkaline battery is used)

Indicator

Power/Battery lamps

Antenna

Built-in type

Finish

Resin, coating

Dimensions

62 (W) × 102.5 (H) × 23 (D) mm (2.44 × 4.04' × 0.91')

Weight

90 g (0.2 lb) (with battery)
| | |
| --- | --- |
| Microphone Element | Electret condenser type: Unidirectional |
| Sensitivity | -63 dB ±3 dB (0 dB = 1 V/0.1 Pa, 1 kHz) |
| Cord Length | 1.3 m (4.27 ft) |
| Finish | Dark black |
| Weight | 20 g (0.71 oz) (cable included) |
(*3) 0 dB = 1 V
Diversity Wireless Tuner
Power Source

AC mains (supplied AC adapter must be used)

Power Consumption

130 mA (12 V DC)

Channel Selectable

16 channels

Receiving System

Double super-heterodyne

Diversity System

Space diversity

Mixing Output

MIC: -60 dB (*3), 600 Ω, balanced, XLR-3-32 type connector
LINE: -20 dB (*3), 600 Ω, unbalanced, phone jack

Mixing Input

-20 dB (*3), 10 kΩ, unbalanced, phone jack

Antenna

Whip antenna

Receiving Sensitivity

90 dB or more, Signal to Noise ratio (20 dBμV input, 40 kHz deviation)

Squelch Sensitivity

16 - 40 dBμV variable

Squelch System

Using together of noise SQ, carrier SQ and tone SQ

Indicator

ANT A/B, Audio (peak), Battery alarm, Channel number

Channel Check

Usable frequencies scanning

Signal to Noise Ratio

104 dB or more (A-weight, unbalanced output)

Harmonic Distortion

1 % or less (typical)

Frequency Response

100 Hz - 15 kHz, ±3 dB

Finish

Resin, black

Dimensions

206 (W) × 40.6 (H) × 152.7 (D) mm (8.11 × 1.6' × 6.01') (excluding antenna)

Weight

590 g (1.3 lb)



Brouchure:
WS-5325U