ASIP ENGINEERING (JB)
04-31, Skudai Parade
Shopping Complex,
Batu 10, Jalan Skudai,
81300 Skudai, Johor,
Malaysia.
ASIP ENGINEERING (KL)
Lot 3, Block B,
Subang Light Industrial Park,
Off Jalan Subang 2, USJ 1,
47610 Subang Jaya,
Selangor, Malaysia.
ASIP ENGINEERING (Perak)
14, Jalan Medan Ipoh 9,
Bandar Baru Medan,
31400 Ipoh,
Perak, Malaysia.
+6016-7333389
enquiry@asip.com.my
SWB102. MAG Tubular Swing Barrier
Turnstile System --- MAG ---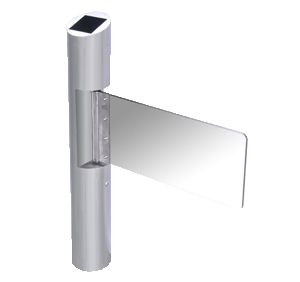 SWB102. MAG Tubular Swing Barrier

SWB102 is an automatic motorized stainless steel tubular swing barrier. SWB102 has smallest installation footprint while offering widest opening clearance to allow big boxes, trolley, wheelchair, baby stroller or user with big luggage to pass through with comfort. Swing barrier compact size help to save space and can fit into narrow places.


SWB102 is typically used together with flap barrier or turnstile as manual lane for handicapped user or user with big luggage.
Feature:
Low maintenance
Uses DC brushless motor eliminate the need of changing carbon brush thus reducing maintenance work.

Better accuracy
Uses of positioning sensor provide more accurate reading to ensure the opening and closing of gate at the same position at all time.

Customized opening
Support bi-directional and widest 910mm opening. Gate length can be easily customized to fit site requirement. Auto synchronized opening when 2 swing barriers are installed for the same passage. Both side will open and close at the same time. Gate motor mechanism is self lock at open and close position.

Emergency recovery
During power failure, swing barrier will automatically open up to allow free access. When power resume, swing barrier will automatically close back to resume security level.
In the event of emergency such as fire alarm, swing barrier can be automatically triggered to open permanently to allow fast evacuation until the fire alarm resumed.

Easy integration
Can integrate with access control system.
• Trigger to open by dry contact. Automatic close back after auto timer elapsed. Delay time can be programmed on swing barrier control panel.
• Trigger to open by dry contact (NC) and close by dry contact (NO). This allowed access control reader to control swing barrier opening and closing time.

More safety
Optional railing with safety IR beam can be added to auto reverse the gate upon detecting obstacle in the passage way. This way the gate is reversed before even hitting user that is still in the passage way. More safety to the user. Built-in Automatic Rebounce system (ARS) that will sense brute force and rebounce back to original position when someone kick the door by force as vandalism attempt. This will protects door leaf and gearbox from being vandalism by brute force.
Specification:
168mm (Diameter) x 1050mm (H)
Default gate length (transparent acrylic)
# 304 stainless steel, 2.0 mm
Access device input voltage
20 to 25 people per minute
Programmable 0.9 – 2.8 sec