ASIP ENGINEERING (JB)
04-31, Skudai Parade
Shopping Complex,
Batu 10, Jalan Skudai,
81300 Skudai, Johor,
Malaysia.
ASIP ENGINEERING (KL)
Lot 3, Block B,
Subang Light Industrial Park,
Off Jalan Subang 2, USJ 1,
47610 Subang Jaya,
Selangor, Malaysia.
ASIP ENGINEERING (Perak)
14, Jalan Medan Ipoh 9,
Bandar Baru Medan,
31400 Ipoh,
Perak, Malaysia.
+6016-7333389
enquiry@asip.com.my
TS-682L.TOA Delegate Unit with Long Microphone
PA/Sound System --- TOA ---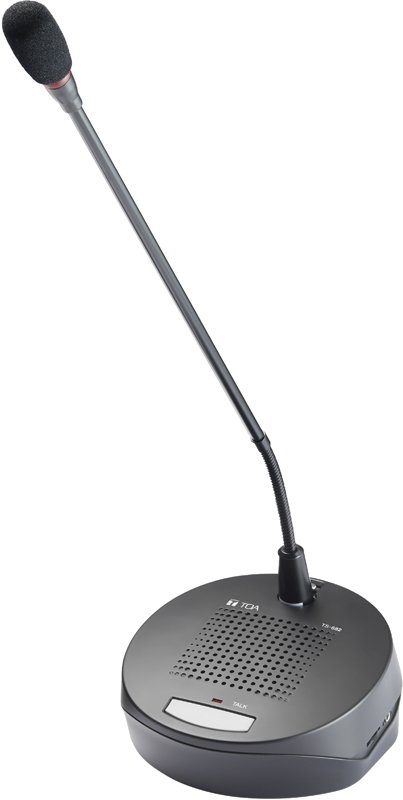 The TS-682L is a Delegate unit of the TOA conference system, TS-680 Series of which compact and lightweight design makes it easy to install and store. Placing the talk key in ON position permits speech and disable the speaker to prevent feedback. If the talk key is placed in the OFF position, the microphone cannot be used but the speaker is turned on, allowing voices from other conference units to be monitored. And the TS-682L Delegate Unit comes with a long microphone as a standard accessory.


Power Source

36 V DC, 30 mA or less (supplied from the Central Unit TS-680)

Output

Headphone/Recording: 32 Ω (headphone)/10 kΩ, -20 dB* (recording),
unbalanced, mini jack (with Volume control)
Internal speaker: 130 Ω, 200 mW (with Volume control)

Control

Talk Key: Microphone, speaker on-off control by talk key
Volume control: Headphone output and internal speaker volume adjustable
Microphone Unit
(Accessory)
Electret Condenser Microphone
Directivity: Unidirectional
Impedance: 1.8kΩ
Sensitivity: -37dB (1kHz 0dB = 1V/Pa)
Frequency Response: 100Hz - 13 kHz
Length: 518mm
Weight: 105g (0.23 lb)

Operating Temperature

0 °C to +40 °C (32 °F to 104 °F)

Operating Humidity

90 %RH or less (no condensation)

Finish

ABS resin, black, paint

Dimensions

145.3 (W) × 70.7 (H) × 150.5 (D) mm (5.72' × 2.78' × 5.93')
(Excluding Microphone Unit)

Weight

800 g (1.76 lb) (Excluding Microphone Unit)

Accessory

Long Microphone Unit x 1

Option

Extension cord: YR-780-2M, YR-780-10M



Brouchure: https://cdn1.npcdn.net/attachments/15650564330af13fd259011654fa8e50c31a31187f.pdf