ASIP ENGINEERING (JB)
04-31, Skudai Parade
Shopping Complex,
Batu 10, Jalan Skudai,
81300 Skudai, Johor,
Malaysia.
ASIP ENGINEERING (KL)
Lot 3, Block B,
Subang Light Industrial Park,
Off Jalan Subang 2, USJ 1,
47610 Subang Jaya,
Selangor, Malaysia.
ASIP ENGINEERING (Perak)
14, Jalan Medan Ipoh 9,
Bandar Baru Medan,
31400 Ipoh,
Perak, Malaysia.
+6016-7333389
enquiry@asip.com.my
FB-2862C.TOA Ceiling Subwoofer
PA/Sound System --- TOA ---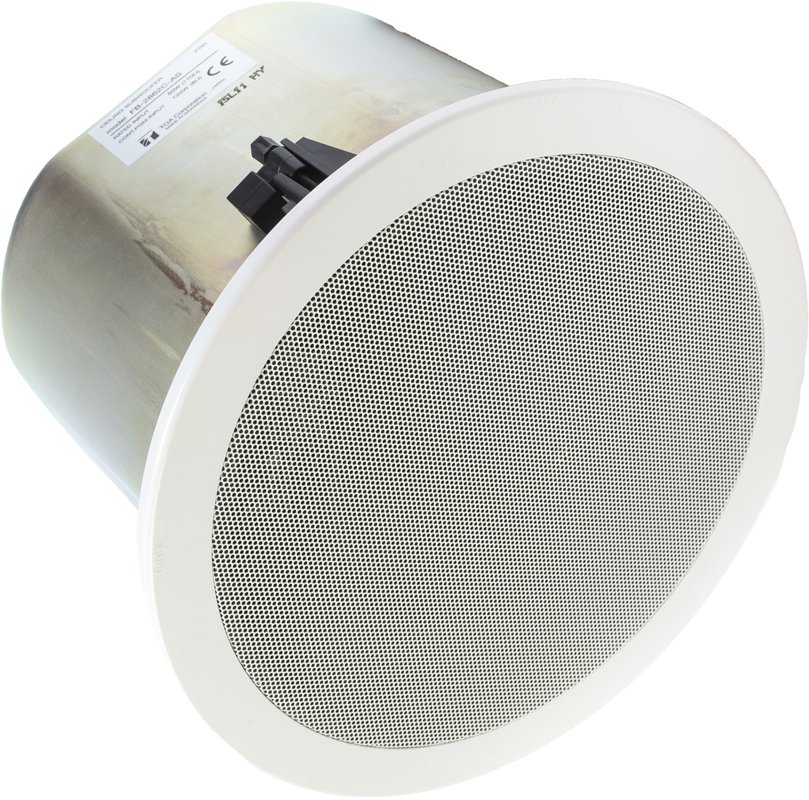 Ceiling Subwoofer, FB-2862C offers an attractive exterior designed created by an interior designer to blend it naturally to any architectual space, enhancing the immediate area's sense of harmony. The bass reflex speaker system designed to provide low frequency range and high-quality sound output, ideal for locations with high ceiling or places that requires true-to-life sounds.


Enclosure

Bass Reflex Type

Rated Input

60W (High Impedance)

Power Handling Capacity

Continuous: 60 W (8Ω) (IEC60268-5)
Program: 120 W (8Ω)

Impedance

100 V line: 170 Ω (60 W), 330 Ω (30 W), 670 Ω (15 W), 3.3 kΩ (3 W)
70 V line: 83 Ω (60 W), 170 Ω (30 W), 330 Ω (15 W), 670 Ω (7.5 W), 3.3 kΩ (1.5 W)
25 V line: 83 Ω (7.5 W), 170 Ω (3.7 W), 330 Ω (1.9 W), 670 Ω (0.9 W), 3.3 kΩ (0.2 W)
8Ω (120W)

Sound Pressure Level

87 dB (1 W, 1 m) installation in 1/2 free sound field
(measured by installing the unit in the center of a ceiling or wall)
81 dB (1 W, 1 m) installation in free sound field (measured in anechoic chamber)

Frequency Response

60 - 250 Hz (-10 dB) installation in 1/2 free sound field
(measured by installing the unit in the center of a ceiling or wall)

Speaker Component

Low Frequency: 16 cm cone-type

Mounting Hole

Φ 250 mm (Maximum ceiling thickness: 37mm)

Input Terminal

Removable locking connector with screw-down terminals (2 input terminals and 2 bridging terminals)

Usable Cable

Solid copper wire: Φ0.5 - Φ1.6mm (equivalent to AWG No. 24 - 14)
Stranded copper wire: 0.2 - 2.5mm² (equivalent to AWG No. 24-14)

Finish

Enclosure: Steel plate, plating
Baffle: Fire-resistant ABS resin (UL-94 V-0), black
Rim: Fire-resistant ABS resin (UL-94 V-0), white (RAL 9016)
Punched net: Steel plate, white (RAL 9016), paint

Dimensions

Φ280 × 198 (D) mm

Weight

6.3 kg (including mounting accessory)

Accessory

Grille x 1, Ceiling Reinforcement x 1, Safety Wire x 1, Paper Pattern x 1

Option

Anchoring Hanging Bracket: HY-AH1, Tile Bar Bridge: HY-TB1



Brouchure: https://cdn1.npcdn.net/attachments/15638722890af13fd259011654fa8e50c31a31187f.pdf