ASIP ENGINEERING (JB)
04-31, Skudai Parade
Shopping Complex,
Batu 10, Jalan Skudai,
81300 Skudai, Johor,
Malaysia.
ASIP ENGINEERING (KL)
Lot 3, Block B,
Subang Light Industrial Park,
Off Jalan Subang 2, USJ 1,
47610 Subang Jaya,
Selangor, Malaysia.
ASIP ENGINEERING (Perak)
14, Jalan Medan Ipoh 9,
Bandar Baru Medan,
31400 Ipoh,
Perak, Malaysia.
+6016-7333389
enquiry@asip.com.my
Ruijie RG-WALL 1600 Next-Generation Firewall Series
Network/ICT System --- RUIJIE ---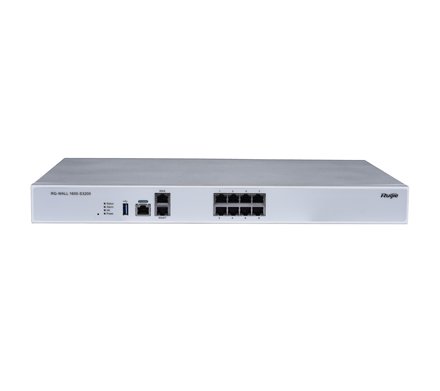 Ruijie RG-WALL 1600 Firewall Series is a collection of next-generation firewall offering security, routing and switching features all in one with extensive interface varieties and flexible configuration. The firewall is an ideal partner for government, medical, enterprise, network operator, finance, education and military network deployments. Teaming up with Ruijie's leading switch and router series, the firewall can act as a network gateway and provide a secure connection between different policy areas, providing users with an end-to-end solution that best fits their actual needs.
Hardware Acceleration with Outstanding Performance
With ASIC hardware chip acceleration technology, the firewall's performance is independent of the number of policies and dialogues. The internal core layer at the same time handles all the reception, categorization, forwarding of packets to fully eliminate network traffic bottleneck. The firewall greatly enhances the processor performance on the application layer security inspection. Various modules such as anti-virus, IPS, behavior monitoring and anti-spam are available to enhance the overall performance.
Feature-rich Security Device
The RG-WALL 1600 Firewall Series enables user-based, intelligent network deployment and access control in terms of users, resources and applications. The feature-rich firewall offers in-depth status inspection, defense against external attacks, intranet security, traffic control, email filtering, website filtering, application filtering, etc. The firewall also delivers an extensive library of smart analysis and management features, supporting email alerts and various system logs for streamlined operation. Multiple forms of VPN deployment are enabled with GRE, L2TP and IPsec supporting features. The firewall sustains exceptional routing performance for NAT, static/RIP/OSPF routing policies. It also supports hot backup of dual devices, allowing Active/Active and Active/Standby modes and comprehensive QoS features. The RG-WALL 1600 Firewall Series fully meets the demands of high network reliability.
Integration of Security, Switching & Routing for Cost Saving
The security, routing and switching all-in-one product supports a wide range of firewall features such as security policies, NAT, VPN and web protection. The firewall also delivers various switching interfaces, which enable direct firewall deployment for government branch offices, hospitals, primary and secondary schools, enterprise branches and settings alike. Deploying as network gateway, the RG-WALL 1600 Firewall Series is an ideal replacement for router and hence offers exceptional cost savings.
Feature highlights of RG-WALL 1600 Firewall Series:
ˇńHardware Acceleration with Superior Performance (From 1.5Gbps to 80Gbps FW Throughput)
ˇńBuilt-in Advanced Firewall, IPS, Anti-X Features Protection
ˇńSecurity, Switching & Routing All-In-One (Up to 42 GE Ports & 8 10GE Ports)