ASIP ENGINEERING (JB)
04-31, Skudai Parade
Shopping Complex,
Batu 10, Jalan Skudai,
81300 Skudai, Johor,
Malaysia.
ASIP ENGINEERING (KL)
Lot 3, Block B,
Subang Light Industrial Park,
Off Jalan Subang 2, USJ 1,
47610 Subang Jaya,
Selangor, Malaysia.
ASIP ENGINEERING (Perak)
14, Jalan Medan Ipoh 9,
Bandar Baru Medan,
31400 Ipoh,
Perak, Malaysia.
+6016-7333389
enquiry@asip.com.my
Fingertec Kadex/Kadex U
Door Access System --- FINGERTEC ---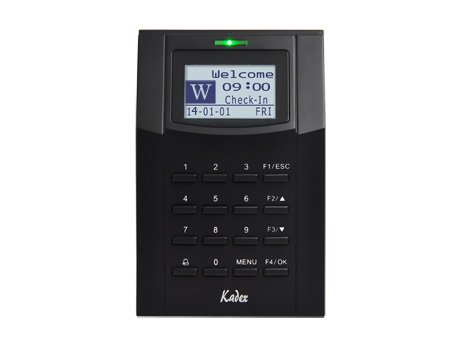 Small, Yet Loaded with Capacity
Kadex and m-Kadex can store a whopping total of 30000 users, and 50000 transaction logs.

Combine Your Verification Methods
Opt for a combination of verification methods to secure your workplace further. Choose the card and password verification with the Kadex for tighter security.

Manage Your Data Easily
Administration is easy with the Ingress software application. Ingress allows you to remotely manage door activity of all connected terminals, while containing time attendance functions for attendance monitoring.

Simple Administrator Management & Enrollment
m-Kadex's simple outlook is complimented with a simple management system. Just swipe your administrator card to enroll, delete, or reset the terminal.

Value for Money
Mix and match your FingerTec system with m-Kadex to give you more value for your money. Choose Kadex for the main entrance and m-Kadex for other entrances. Haven't you wanted options in life?

Manage Your Shift Workers
Kadex and m-Kadex can be programmed with a total of 50 time zones – perfect for companies with shift work.

Built-In Alarm
Increase the security at your workplace by installing an external alarm, and be alerted during unexpected scenarios such as break-ins and fire emergencies.

Easy Data Management
All you need is a USB flash disk to transfer transaction logs to your computer. It is that easy!
Layout Plan
System Communication
for illustration only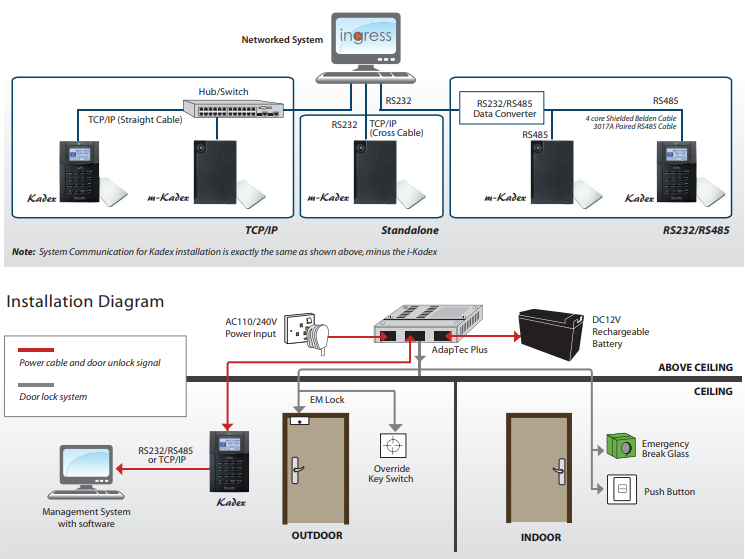 SPECIFICATIONS

MODEL

Kadex

m-Kadex

SURFACE FINISHING

Acrylonitrile butadiene styrene (ABS)

Polycarbonate

TYPE OF ANTENNA

RFID

MICROPROCESSOR

400 MHz

MEMORY

8 MB flash memory & 32 MB SDRAM

4 MB flash memory & 32 MB SDRAM

PUSH TECHNOLOGY

Yes

N/A

ALGORITHM

BioBridge VX 9.0

PRODUCT DIMENSION (L X W X H), mm

92 x 48 x 137

92 x 29 x 134

STORAGE

• Cards

30000

• Transactions

50000

ENROLLMENT & VERIFICATION

• Methods

Card & password

Card

• Card per user ID

1

• Reading distance, mm

40 ~ 80 (RFID, HID), 30 ~ 50 (Mifare)

• Verication time (sec)

<1

CARD TECHNOLOGY

• RFID: 64-bit, 125kHz, RF output power (EN300-330)

Yes

• MIFARE: MFIS50/S70, 13.56MHz

Make to order

• HID: HID 1325, 26-bit, 125kHz

Make to order

COMMUNICATIONS

• Method

TCP/IP, RS232, RS485, USB disk

• Baud rates

9600, 19200, 38400, 57600, 115200

• Wiegand

26-bit input / output

OPERATING ENVIRONMENT

• Temperature (°C)

0 ~ 45

• Humidity (%)

20 ~ 80

• Power input

DC 12V 2A

TIME ATTENDANCE

• Work codes

Yes

N/A

MULTIMEDIA

• Voice

Yes

N/A

• Display

Black and White

N/A

• Short messaging

Yes

N/A

ACCESS CONTROL

• EM lock driving output

DC 12V 3A / relay output

• Alarm output

NO / NC

• Anti passback

Yes

VOICE / DISPLAY LANGUAGE (TERMINAL)

(only for Kadex)

English (Standard), Arabic, Malay, Indonesian, Chinese Traditional / Simplified, Cantonese, Thai, Vietnamese, Korean, Spanish, Portuguese Portugal / Brazil, Polish, French, Russian, German, Italian, Turkish, Persian, Slovak, Greek, Dutch, Hebrew, Romanian, Bulgarian.
Other languages are available upon request
SOFTWARE LANGUAGE

English (Standard), Arabic, Bulgarian, Chinese (Simplified/Traditional), French, German, Hindi, Indonesian, Kurdish, Malay, Persian, Portuguese, Russian, Spanish, Thai, Vietnamese
Brouhure: https://cdn1.npcdn.net/attachments/15547040500af13fd259011654fa8e50c31a31187f.pdf