ASIP ENGINEERING (JB)
04-31, Skudai Parade
Shopping Complex,
Batu 10, Jalan Skudai,
81300 Skudai, Johor,
Malaysia.
ASIP ENGINEERING (KL)
Lot 3, Block B,
Subang Light Industrial Park,
Off Jalan Subang 2, USJ 1,
47610 Subang Jaya,
Selangor, Malaysia.
ASIP ENGINEERING (Perak)
14, Jalan Medan Ipoh 9,
Bandar Baru Medan,
31400 Ipoh,
Perak, Malaysia.
+6016-7333389
enquiry@asip.com.my
TS-801.Chairman Unit
PA/Sound System --- TOA ---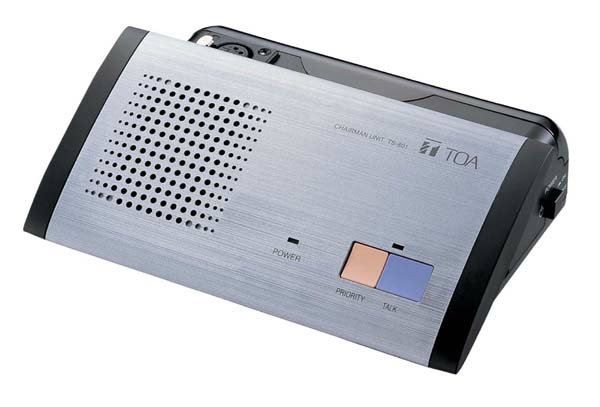 The TS-801 is a Chairman unit of the Infrared Conference system. Since the system is cordless, it can be easily installed and removed. The Chairman unit features a priority speech key which allows it to take precedence over the TS-802 Delegate units (optional) when speaking. It can be operated on either the AD-0910 AC adapter (optional) or the BP-900 lithium-ion battery (optional). It is equipped with a remaining battery indicator. Two types of dedicated microphones are made available for the TS-801 as optional products: the TS-903 standard type and the TS-904 long type.


Specification:
Power Source

7.4 V DC (battery), 9 V DC (AC adapter)




(supplied from BP-900 battery (option) or AD-0910 AC adapter (option))

Current Consumption

Max. 270 mA

Infrared Emitter/Detector

Wavelength

870 nm (AM: Brightness modulation)

Modulation Method

Frequency modulation

Carrier Frequency

Transmission: Audio channel 1: 7.35 MHz




Audio channel 2: 8.10 MHz




Audio channel 3: 8.55 MHz




Audio channel 4: 9.15 MHz




Control channel: 6.45 MHz




Reception: Audio channel: 1.95 MHz

Acceptance Angle

Vertical: 90©b, Horizontal: 120©b

Emission Angle

Vertical: 90©b, Horizontal: 120©b

Covering Range

7 m (22.97 ft) (radius)

Input

Microphone terminal: XLR-4-31 type




(dedicated for connecting the optional TS-903 or TS-904)

Output

Monitor speaker: 8 Ω, 0.2 W




Headphone: φ3.5 mm mini Jack (3P:monaural) × 2

LED Indicator

Speech indicator (flashes when the unit is out of communications range),




Power indicator (flashes when the unit is out of communications range or when




the battery level is low)

Function

Monitor volume control, Headphone volume control, Priority speech function

Battery Life

Approx. 10 hours (when the fully-charged BP-900 battery is used




with 'During speech' to 'Standby' ratio of 1:2)

Operating Temperature

'0 ¡æ to +40 ¡æ (32




Brochure : https://cdn1.npcdn.net/attachments/1549614543504e5b3e37a2d6bc037b25622e97a6fc.pdf