ASIP ENGINEERING (JB)
04-31, Skudai Parade
Shopping Complex,
Batu 10, Jalan Skudai,
81300 Skudai, Johor,
Malaysia.
ASIP ENGINEERING (KL)
Lot 3, Block B,
Subang Light Industrial Park,
Off Jalan Subang 2, USJ 1,
47610 Subang Jaya,
Selangor, Malaysia.
ASIP ENGINEERING (Perak)
14, Jalan Medan Ipoh 9,
Bandar Baru Medan,
31400 Ipoh,
Perak, Malaysia.
+6016-7333389
enquiry@asip.com.my
Toshiba B-SX4T & B-SX5T
Barcode --- TOSHIBA ---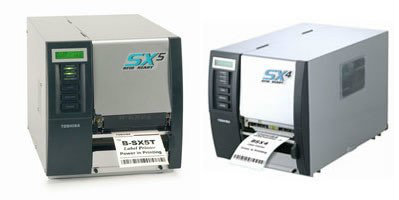 Enhanced Features

Internet, E-mail, FTP, XML and BCI. The enhanced functions offer many advantages including:

- remote printing

- less costly software integration thanks to standardized XML data exchange

- remote label format installation and updating (web print spooling)

- Dfficient notification of errors and events remote technical support

- Data manipulation and processing using the BCI

Speed

Maintaining the high speed printing of its predecessors, throughput is enhanced by a fast 32 bit RISC CPU (SH-3 88 MHz), 8/16 Mb DRAM image buffer, and 4 Mb Flash Memory for programs and large data file storage

Ease of Use

Access to printhead, platen, paper path, and sensors is improved by the development of new wide opening mechanism.
High Print Quality

Fitted with Toshiba's very own printheads -203 dpi on the B-SX4 and 304 dpi on the B-SX5. These machines are unique in the market.

Suitable Applications:

- Manufacturing

- Auto Industry

- Chemical Industry

- Pharmaceutical Industry

- Textile Industry

- Electronics Industry

- Telecommunications

- Food Sector

- More

Basic Command Interpreter

The BCI can run Basic programs allowing the manipulation of incoming print data to generate the correct label formats. This allows the printer to be connected to existing legacy systems eliminating the need for costly software changes. Easy access to printhead, platen, paper path and sensors.


Toshiba B-SX4T

Toshiba B-SX5T

Thermal Transfer / Direct Thermal
ZPL Emulation
203 dpi
304 dpi
Up to 10 inches/second
Up to 8 inches/second
4.09 inch print width
5.02 inches print width
Optional Ribbon Save
Serial port, Bi-Directional Parallel port, and optional USB port
On-the fly formatting
Near-edge printhead technology